Sep 18, 2020 -- IMPORTANT! The Turkey Trot team is still working on planning for this event to make it safe and fun. This site will be updated as soon as we know more--please check back soon!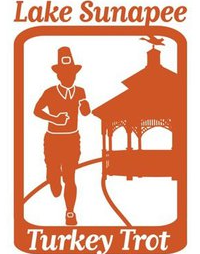 Now in its echo get_annual(); ?> year, the Lake Sunapee Turkey Trot has become a wonderful family tradition for more than 800 racers. Grab your family and friends, throw on a costume (optional, but really fun and highly encouraged), work off some calories, and make this great event a part of your Thanksgiving tradition!
Kids are invited to run a 1K Chicken Run down Lake Avenue, and every participant receives a medal!
All proceeds go to the Recreation Department. Proceeds have helped fun improvements at Dewey Field and the new Nona Peirce playground on Route 103B. This year's proceeds are going toward a new skateboard park adjacent to Veteran's Field on Route 11.
RACE REGISTRATION
ONLINE REGISTRATION IS CLOSED.
Racers can register in person on the evening before the race or on race day from 7:00 to 8:00 am. Every racer needs to fill out a race application, sign a waiver form, and collect a bib and pins in order to receive a time.
PICKING UP RACE BIBS AND T SHIRTS
Bibs and pins can be picked up at Pre-Registration on Wednesday, November 25 from 4:00 to 7:00 pm at the Harbor House Livery. They can also be picked up on race day (November 26 from 7:00-8:00 am); however, due to a large number of people registering on race day, we urge racers to pick up their bibs and pins at the pre-registration.
Racers who registered by or before November 6 can also pick up race T shirts at this time. A limited number of T shirts will be for sale for $10 each.
SPTO PIE SALE!
The Sunapee Parent Teacher Organization will hold a pie sale during the Pre-Registration as well as on race day. Pies will be $10 each, and it is a great way to support the SPTO as well as get out having to bake!
If you would like to donate a pie to the sale, please drop it off as of 4:00 pm on November 25 at a location to be determined. Please indicate if your pie has nuts so we can be careful of allergies. Thank you!
BRING YOUR OWN BOTTLE
In an effort to reduce waste, we will be setting up water stations at the start and finish lines. Please bring your own reusable bottle, and fill up whenever you're thirsty. Thank you Prospect Hill Antiques!
PARKING
Limited parking is available at the Sunapee Post Office, Sunapee Town Office, Lake Sunapee Protective Association, Garnet Hill Road, Sunapee Sherburne Gym, and the parking lot adjacent to the start line. We recommend carpooling with friends and family where possible.
RACE-DAY TIMELINE
• 7:00-8:00 am: Race-day registration and bib pick up
• 8:15 am: 1K Chicken Run (kids fun run down Lake Avenue and back)
• 9:00 am: 5K Turkey Trot
• 10:15 am: Awards Ceremony (for top male and female racers, age category winners and prizes for the best male and female costumes)
WHERE Ben Mere Gazebo, Sunapee Harbor
DOG POLICY
We love dogs, and they need their exercise, too. However dogs do present an element of risk that we cannot bear, so it is necessary to leave your furry friends at home for this event.